Ahom Kingdom
1 2 2 8  –  1 8 2 6
The great Ahom kings and queens who ruled the Sibsagar region for over six centuries were descendents of China's Shan-Tai tribes, which occupied the constantly warring upper regions of Burma during the early Christian era.
First Ahom king Chao Lung Sui-Kha-Pah was an enterprising young man who traversed the Patkai hills and set out to explore the Brahmaputra valley with his officials, soldiers, elephants, horses and a sizeable population of tribals.
After spending some time in Habung, he took Charaideo (near present-day Sibsagar town) as his capital and established the Ahom kingdom, which laid the foundation for present day Assamese culture, tradition, art and architecture. With a string of adept successors, the Ahom kingdom grew and prospered, successfully resisting numerous attacks and invasions from the Mughals, the Burmese and other local chieftains.
Great leaders like Suhungmung (1497 – 1539) ushered in a period of peace and prosperity by forming matrimonial alliances with the neighbouring kingdom of Manipur. But it was the enterprising Rudra Simha (1696 – 1714 CE), the first Ahom king to rule under the title of Swargadeo, who contributed greatly to the administrative, cultural and architectural prowess of the region.
In its final years, Ahom dynasty was ravaged by the violent Moamoria rebellion. Further, sustained attacks by Burmese rulers led to British entry into the region. Signing of the Treaty of Yandabo in 1826 marked the end of the great Ahom empire and ushered in a period of colonial rule, which continued right up to the national independence movement.
The Evolution of Ahom Art & Culture
It was during Rudra Simha's reign that the Ahoms officially adopted the Assamese religion and language, blending traditional folk and Mughal influences into the cultural fabric of Assam seamlessly. Many notable Sanskrit works like the Ramayan and the Mahabarata were translated and royal accounts and scriptures maintained in the form of Burhanis were recast in Assamese. It was during this period that the Ahom rulers embraced Hinduism and became devout patrons of the Neo-Vaishnavite movement led by Mahapurush Shankardeva, who along with his disciple Madhabdeva created a rich repository of songs, dramas, verses and other literary works that were performed in the great halls of the Rangpur Palace on several occasions. Rudra Simha invited many skilled architects, painters, dancers and musicians from Bengal and other parts of India to his new capital of Rangpur, commissioning them to build a majestic city unlike any other.
Architectural
Marvels
of
AHOM
The Ahom style of architecture can be seen as a synthesis of various cultures, traditions and religious influences. It presents a unique blend of distinct architectural styles ranging from domes and arches inspired by Mughal architecture to great shikhara and mandapas which are key elements of traditional hindu architecture. It is in the great temples of Sibsagar and Gaurisagar that one sees hindu iconographies converging with tribal deities and reliefs, with temples and secular buildings dotted with influences of this rich ancestry.
Sibsagar soon turned into a crucible of learning, a melting pot of distinct influences from which emerged newer forms of culture and architecture. This versatile group of artists came together to showcase their talents and built magnificent temples like Shivdhol, Devidol and Vishnudol on the banks of the Sibsagar tank, the grand palaces of Gargaon and Rangpur and great centers of sports and learning like Rang Ghar in a style that is unique to the Ahoms.
During the early years, Ahom architects primarily used wood and bamboo to construct their palaces and other important structures. However, with the passage of time and after careful observations on the weathering quality of such materials, the use of bricks and an organic cement made out of eggs, fish, molasses, pulses and lime became more popular. The inspiration for such a cement probably came from the Mughals, who used a similar concoction to fortify their structures like the Imam Bada in Lucknow. The Gargaon Palace, built during the reign of Rajesvara Simha, was the first structure to be constructed using these materials. Soon, this new technique became a defining feature of Ahoms architecture and ensured the longevity of these magnificent buildings.
Ancestor worship was and still remains a very important part of the Ahom culture, which is reflected in the elaborate maidams (burial tombs) that the Ahoms built in the sacred city of Charaideo. Another defining feature of Ahom architecture is the excavation of large tanks, most notably Joysagar, which is the largest tank to be excavated under the patronage of Rudra Simha in 1698. Ramparts built at strategic locations with great moats surrounding theirperimeter and sila-sakus or stone bridges are among the other examples of Ahom architectural ingenuity.
Sports and entertainment were an integral part of Ahom culture and the massive grounds of Rang Ghar stand testimony to this fact. Rang Ghar or the 'House of Entertainment' is believed to be one of the oldest surviving amphitheaters in Asia. With bull fights, hawk fights and tiger fights being popular during his reign, Swargadeo Parmatama Simha commissioned the construction of this colossal amphitheatre in 1747 AD.
This unique structure, which can only be compared to the grand Colosseum in Rome, was built with thin bricks and organic cement to keep the interiors cool. It consists of an oval amphitheatre built in two levels, with a roof in the shape of an inverted Ahom long boat. This grand roof, crowned with crocodile or makara ends, rests upon rows of massive columns and semi-circular arches. The central unit of the amphitheatre is rectangular, however small trapezoidal structures at its end transform the entire structure into a giant octagon.
The inner walls of Rang Ghar were coated with a lime and brick plaster, decorated with elaborate panels depicting elephant & bird fights, however, only a fraction of these sculptural embellishments survive to this day. It is unfortunate that earthquakes and seismic surveys undertaken by ONGC have resulted in the development of close 35 cracks in this 18th century marvel.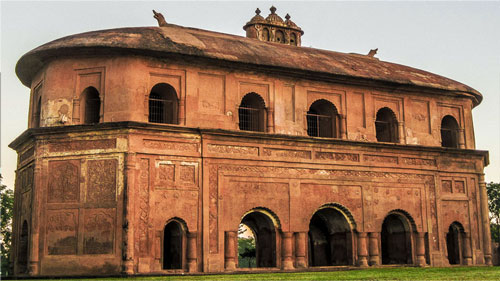 Just one and a half kilometers north of Joysagar tank lies Rangpur Palace, a seven-storied royal complex considered to be one of the largest and finest examples of Ahom architecture. Swargadeo Rudra Singha, who relocated the capital of the Ahom Kingdom from Garhgaon to Rangpur, commissioned the palace to be built in bamboo and wood in 1698 AD. It was later renovated by Rajesvara Simha in brick and organic cement, with the three-storied Talatal Ghar and two secret passages being added to the original structure of Kareng Ghar.
The Rangpur Palace chronicles the long and devastating narrative of the end of the Ahom Empire, since this was where the last Tungkhungia king Chandrakanta Simha (1797 – 1839) and his wife, Queen Padmavati, were confined by the Burmese right before the First Anglo-Burmese war, which made the British the new masters of the Bharmaputra Valley.
Talatal Ghar, which literally translates to underground home, was the military stronghold of the dynasty and was thus, initially built as an army base. It houses two secret tunnels, which were used as escape routes during Ahom wars, in addition to its three-storied underground structure. With one exit leading to the Gargaon Palace and the other leading to the river, the Ahoms had a foolproof exit plan I place. Built in brick and organic cement, the existing structure retains an irregular shape due to the number of alterations it was subjected to after Rudra Simha's death.
Which is mainly built of wood, is a magnificent structure that extends up to 4 stories, with a long corridor connecting several rooms running its length from east to west with a few smaller wings running from north to south. It is believed that the ground floor of Kareng Ghar housed store rooms, stables and servants' quarters while the upper floors served as royal abodes. A visit to the ruins of this medieval structure reveal a flight of stairs running all the way up to the terrace, probably used as a vantage point in times of political unrest. To its north stands a large conference hall or Mantranaghar. The complex also features an octagonal prayer room and an isolated southern quarter, to which Queen Padmavati was believed to be confined by the Burmese rulers.
Sibsagar Group of Temples
The Ahom tradition of excavating large tanks and surrounding them with impressive temples dedicated to the worship of Shiva, Vishnu and Durga led to the construction of the Sibsagar tank (also known as Borpukhuri) and its three hindu temples. The Sibsagar Group of temples, constructed between 1731 and 1734 AD during the reign of Queen Ambika, are regarded as one of the foremost examples of Ahom architecture.
Shiv Dol is one of the highest altitude Shiva temples in India and is considered to be a place of great sanctity to this day. Built in brick and stone, this medival marvel stands on an octagonal plinth with a square mukhamandapa, which is unique to this Ahom temple. The mukhamandapa is also unique as it features a thatched Bengali-style roof, also known as charachala. Shiv Dol has three entrances and a permanent tin shed which is now used as the main sabhamandapa of the temple.
Devi Dol was built to honour Durga, revered as the supreme Goddess of power. Both Vishnu Dol and Devi Dol feature architectural and dimensional similarities, with their boundaries up to the level of the bada being built in stone. The most magnificent feature of these two temples is the brick built dome that crowns them in the style of a sikhara. universe, was commissioned by Queen Ambika in 1734. It stands adjacent to Shiv Dol along the banks of Borphukhuri.
Vishnu Dol, dedicated to the lord and preserver of the universe, was commissioned by Queen Ambika in 1734. It stands adjacent to Shiv Dol along the banks of Borphukhuri.