Founded on June 2014                                                                                     Launched on April 12, 2015
Sound Codes is a Mumbai based sound research lab that primarily works towards efficiently cataloguing Acoustic Signatures of heritage structures across India. One of the algorithms we use to capture these Acoustic Signatures is convolution reverb. Our sincere attempt is to capture, preserve and make available the acoustic imprints of these historic spaces, steeped in the knowledge and rich culture of the past.
Apart from conserving, we constantly research and develop software solutions for artists, producers, DJs, engineers, students and sound enthusiasts alike. We provide sound consultancy and  have also recently begun making customised hardware to enable composers, musicians and sound designers to achieve their vision quickly and efficiently.
In an attempt to stimulate greater dialogue and provide education in the constantly evolving world of music-technology, Sound.Codes is also actively engaged in hosting workshops and curated seminars.
As artists, we have been engaged in creating experiences via installations and performances – driven by our research into newer ways of integrating music with technology.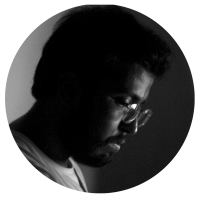 Akash Sharma
Founder
Akash is an experimental artist whose works range from visual art, data mapping, data manipulation, algorithmic compositions, and sensor-based music.
Sudeip Nair
Founder, HIVE, Culture Shoq, Cuckoo Club and Serial Ideator
Sudeip Nair has a penchant for everything new. A graduate from IHM, Aurangabad, Sudeip has set-up and worked with many successful hospitality ventures in India and in the 'gelf'. Founder of HIVE, Culture Shoq The Big Mic and Cuckoo Club, Sudeip's mind is constantly buzzing with ideas on what Indians can do to better spend their time consuming alternative entertainment. Armed with an insatiable appetite for risk, the most likely response to those who throw a mad idea at him is #Super. He records his day at @rotoboter on Instagram and sudeipnair on Snapchat